In cities across China, children's libraries (儿童图书馆 or 绘本馆) are opening in storefronts and on the upper floors of the massive apartment complexes that are home to China's rapidly growing urban population.  The librarians who run these businesses are dedicated to the mission of providing parents and their children with recreational reading opportunities at the youngest possible ages.
The libraries take many forms.  Almost all charge a membership fee for borrowing privileges.  All present activities such a storytimes and organized craft making.  Some do these for free as part of their outreach activities, others supplement their income by charging for activities.  Some do both.  Birthday parties, music lessons, English classes, and field trips are all activities that exist in some of these libraries.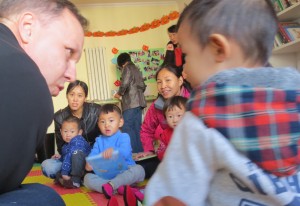 ReadingEverywhere was founded in 2011 after being introduced to this phenomenon that seems unique to China.  In November of 2014, we visited 21 libraries in four cities across China and listened to librarians and parents describe their desire to continually improve their services while reaching financial self-sufficiency.
In November of 2015, Jon Jablonski be presenting on the market potential of Chinese private libraries at the China Shanghai International Children's Book Fair.