ReadingEverywhere was super fortunate to travel to Wuhan, Suzhou, and Shanghai as part of attending a professional meeting in Hangzhou.  I came back with the kernel of a plan to host a workshop in Wuhan in the summer of 2018.  The key will be to raise some money before Spring Festival.
The trip concentrated on pursuing a followup with the 微笑图书馆  –the Smiling Library–a network of rural and Chengdu libraries.  I was introduced to them earlier in the year, when I spent two days bouncing around the city being led to a series of subscription children's libraries and a 'family kindergarten.'  Smiling Library is different, in that it is owned and funded by a charity.  A few days later in Shanghai I met one of its founders, and current Executive Director (I suppose you'd say) of the organization Xu Feng (徐峰).
My first homework after that trip was to translate one of their promotional videos.  Xu Feng thinks I chose the wrong one, as it only briefly talks about their methods.  But I think it gives a good indication of his personality.
We have a crazy connection–both of us are strong advocates of recreational reading for children, but neither of us has kids.  We laughed and hi-fived when we had the realization in March.  In October, he arranged for me to visit Macheng (麻城), a small city an hour from Wuhan.
Along with a graduate student from WuDa, I went to the Macheng #2 Experimental Primary School, which brings reading and writing teachers from around town and the surrounding countryside for a monthly coaching session.  I was honored to address the whole group for a few minutes, and then spend a few hours with a sub-group that stayed for lunch and a small group discussion.  The larger group that left were teachers from nearby.  Those who stayed were excused from their afternoon classes because their journey home was longer than an hour.  One teacher–visibly in late stages of pregnancy–takes the bus for 2 hours in the morning, and then hires a car to carry back a huge stack of books from the library.
This school's library serves its entire area.  They are expanding quickly, and are about to set up a dedicated room with browsable stacks for its own students.  In the meantime, teachers take books back to their classrooms.  The principal explained that about 2/3rd of their books come from Smiling Library, and the other from Xinhua–the state run publisher.  She proudly declared that she was going to excuse one of her teachers from classroom duties in order to run the library program full time.
One teacher explained that it takes him 2 hours to go 35km up into the hills to get to what I believe is his one room schoolhouse.  He stays 3 nights a week and spends weekends back in Macheng with his family.
Back in Wuhan, we hatched a plan to return during the summer of 2018 and bring a group of American and Chinese reading advocates together for some mutual cooperation.  A few days later in Shanghai, Xu Feng gave me some fundraising advice and promised to bring Chinese librarians to the table.
Suzhou and Hangzhou were much more about public libraries.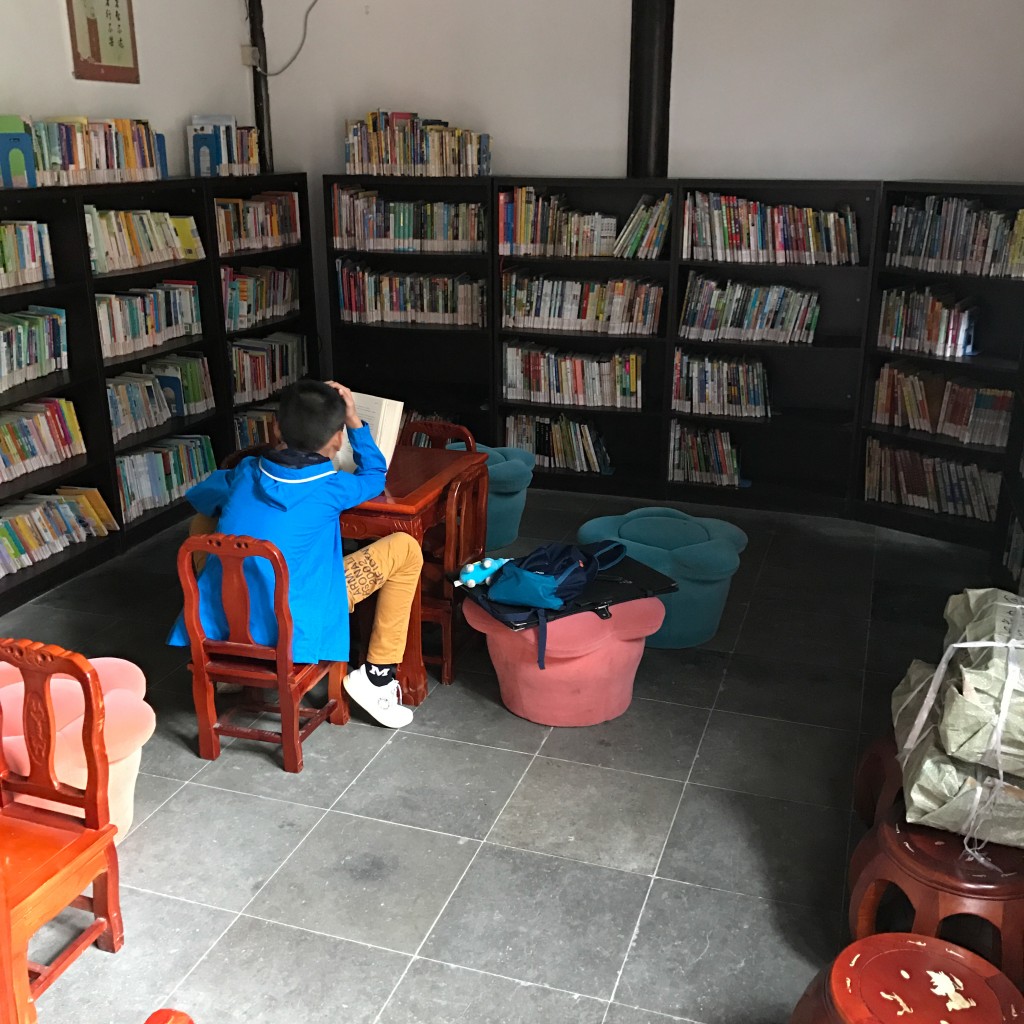 Founding Librarian Hui pointed me towards Suzhou as a city that has developed a system of branches beyond the big multi-story district libraries that Shanghai seems to have chosen.  A WuDa friend attempted to introduce me to the city librarian, but the connection was missed.  Instead, a former student and I wandered to an as-yet-unopened branch that looked to be inside of a larger community center, a fancy library in the city's China–Singapore Suzhou Industrial Park.  That facility takes up a good chunk of a floor in a children's palace.  And before I left town, I used Dianping–China's Yelp, to find an un-marked library in a courtyard house deep in a pedestrian alley.  Suzhou's old town is a web of canals and elaborate garden houses.  Many are open for tourists, and Clement, my erstwhile guide, translator, and current PhD student, has a multi-site pass.  He says he is a regular visitor.  I can see the attraction.
There were obvious regular visitors to the courtyard branch library as well.  I spied one old man surfing the web in a 9-seat computer lab, the above lonely boy reading silently, and 20-or-so readers in the main reading room.  Without a guide, I wasn't confident enough to interrogate the librarians, but if they matched the other branch that Clement and I visited, they were non-library science majors working their first jobs after university.
Finally there was Hangzhou.  I only had 1 day for visits in Hangzhou, but I made the most of it.  I was thrilled to have a Choi, a FOAF, as a fixer and translator.  At our first stop, the librarian at Little Fish Big Fish–owned by a Tencent executive–directed us towards the city's public children's library.  It was my first time inside one of these–a standalone public library dedicated to children's services.
It was a fascinating visit deserving of its own post.  Long story short:  we arrived during lunchtime and Choi decided that it was a good idea to hang out near the administrative office and wait for someone coming back from lunch who looked particularly friendly.  Well–that was the result.  She approached one woman coming back from lunch, and 15 minutes into our conversation she answered a question by saying, "You should ask the directory.  There she is."  That was the beginning of a two hour interview that resulted in an invitation to come back next summer.  The program they deliver is a perfect venue for ReadingEverywhere:  the children of the city's migrant workers, who normally live in the countryside with their grandparents, are invited to free day camp at the public children's library.
I really hope to take Ms. Ding Xiaofang (丁晓芳) up on her offer.