I swore I wouldn't post until I polished off a piece for publication, but it's been months and months and the authors deserve this.
During my trip last November, I brought two books as gifts for the my librarian and parent friends.  I wanted to discuss the themes of the books with them and get some perspective on how Chinese parents and librarians feel about body books and non-Euro-American themes.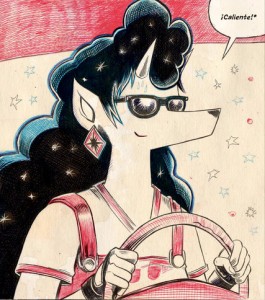 I was partially inspired by seeing 故事的小鸡鸡 in a whole bunch of libraries and stores in 2014.  At the Poplar Children's Republic bookstore (蒲蒲兰绘本馆), I learned that it was a Japanese import, and I amused and embarrassed my translator by translating it out loud: both little boys and little girls like to play ball.  Both little boys and little girls play with dolls.  Little boys look different than little boys with their clothes off.  Through her giggles, she said my Chinese was way better than I let on, but I explained the story was pretty self explanatory via the pictures.
In one library, a little boy clung to it possessively through my whole presentation.  It was a charming book, full of pictures of naked babies.  Lots of little penises.  When I returned to the States, I sought out an equivalent American title.  Pretty much the same story, but not a single cartoon of a naked baby.  On the last couple pages were cutaway anatomical diagrams.  I'm pretty sure they wouldn't make any sense to a 4 or 5 year old.
So when I found Sex is a Funny Word, I was entranced.  It's for an older crowd yes, but it was the first time I've ever seen a fun, cartoon-style book explaining sex, sexuality, and body morphology in such an open, fun, and accepting way.  That's the whole point of the book.  Some people are fat.  Some skinny.  Some are hairy in a wide variety of places.  Most women have certain parts, most men have others, and there are a host of people who have parts in-between.
The second book was a reaction to the kinds of English-language literature I was seeing in a lot of the libraries.  Most of it, like a lot of stuff you'll see in American libraries, was by and about white people.  And almost every English school I saw in China advertised with photos of happy blonde children.  The Chinese overwhelmingly equate American culture with white culture.  I wanted to bring something a little bit different.  Celebrating a part of America that my Chinese friends might not otherwise be exposed to.  A friend-of-a-friend had just published Lowriders in Space, a sci-fi graphic novel about an octopus, a mosquito, and what I think is a sexy Chihuahua and their Spanglish adventures.
Overall, both books were received warmly.  One person expressed a distaste for the graphics of  Lowriders – which uses a line style reminiscent of ball-point ink drawings.  Another thought Sex was drawn too crudely.  When I explained that I brought Lowriders to emphasize that not all American culture is white, people acknowledged the point, but did not express much enthusiasm for exploring a wider variety of American culture.  On the other hand, one mother and library owner said of Sex: 'of course, some of these things are new to us, but we have a transgendered daytime TV host — like Oprah or Ellen.  My daughter asked me to explain why that woman looked and sounded different when she was 6 years old.  We just accept her.' It did seem to help that Jin Xinh is ethnically Korean, so is already a little bit different than the dominant Han supermajority in China.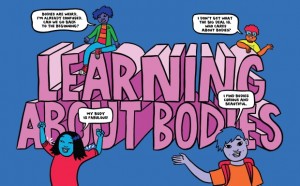 I'm super behind compiling notes from the trip.  But I definitely want to shout out my thanks to Lowrider's Cathy Camps and Sex is a Funny Word's Cory Silverman for putting me in touch with their publisher's for a bulk discount.  Your books are now in the collections of 5 Chinese libraries!